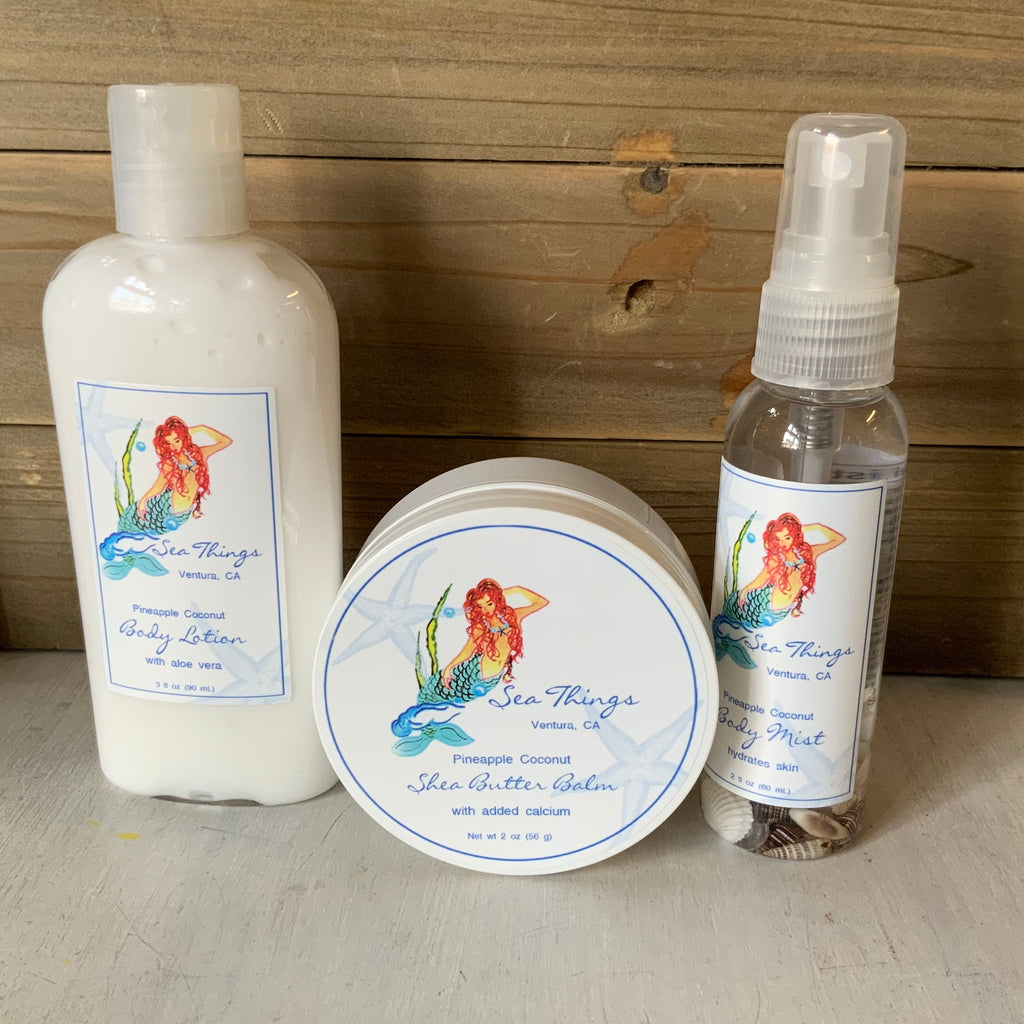 Sea Things Body Care Set
Sea Things Mermaid Body Care 3 piece Set
Made here in Southern California, USA. Our luxurious Sea Things bath & body line is Earth friendly , paraben free, and cruelty free. With our unique custom Pineapple Coconut sent.
Set includes:
- Shea Butter Balm (with added calcium) 2oz
-Body Lotion(with aloe vera) 3floz
-Body Mist 2floz
SHEA BUTTER BALM - Why are our hands always dry? Dry skin on your hands is caused by many factors: (1) The weather, (2) constantly washing your hands, (3) using anti-bacterial soap, (4) handling paper –which we all do! (5) environmental irritants and (6) underlying medical conditions. We've done a lot of research and found that the most effective and long lasting ingredient to help severely dry skin is shea butter.   This unbelievable balm has 15% shea butter, that is almost unheard of in a cream. It also contains added calcium. Recent studies have shown that calcium has as positive of an effect on your skin as it does on your bones - it strengthens as well as fortifies your skin. Our balm will take just a few extra minutes to completely "dry" on your skin. Give it that time! You will see that it creates a layer of "silk" on your skin that will last for hours (even after you wash your hands).
BODY LOTION – What makes a lotion GREAT? We think a great lotion should absorb quickly, but still feel like it's hard at work nourishing your skin. It should also soothe and soften your skin.   Our body lotion is super light in weight and feel, but is still highly moisturizing. The ingredients were chosen to soothe your skin while hydrating it. Skin soothers include: chamomile, aloe vera and comfrey.   Skin hydrators include: glycerin, shea butter and vitamin E.
BODY MIST – Most traditional Body Mists are made with the two WORST things for your skin (1) Alcohol and (2) Water. Both are severely drying to the skin. However, our unique Body Mists are made without oil, alcohol or water. The spray is designed to soften and scent your skin. You can spray it on and rub it in. There's no oily residue! It's soft and it lightly scents your skin while also moisturizing it. The mist can be sprayed directly onto your hair as a shine enhancer /de-tanlger as well.