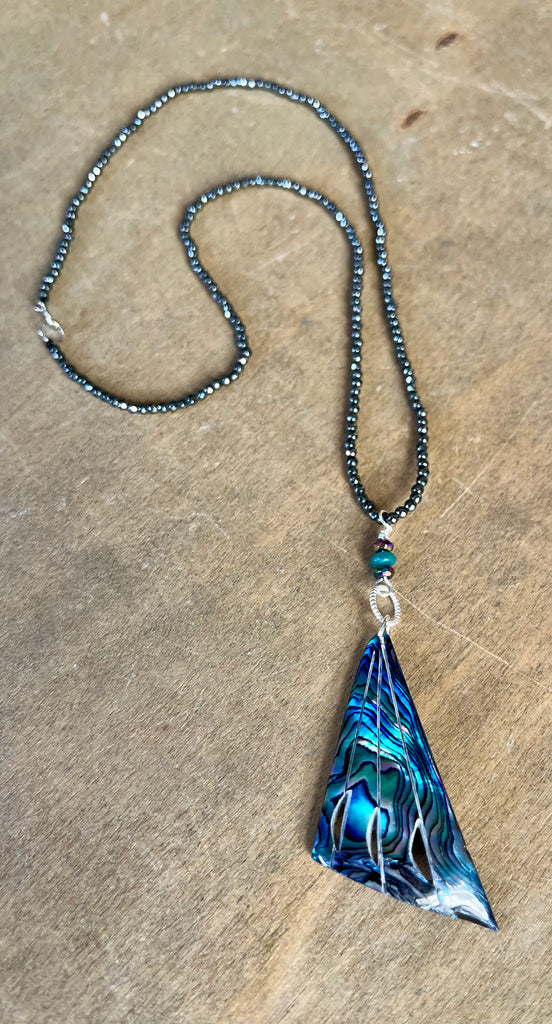 Abalone Sail Necklace
Abalone Sail Necklace
Abalone Necklace with Small loops and stone beads.
Sterling Silver findings
Necklace has small loops that allow the shell to dangle freely, setting off their Abalone iridescence as they catch the light on a hematite beaded necklace.       
Necklace is Handmade and will vary with the Colors of the Abalone.  Beads are genuine gemstones and pyrite on each necklace may vary slightly but will make yours Unique.
                                                                                                           
We have been selling sea treasures at Sea Things in Ventura, Ca since the early 1980's. We also sell the supplies to make your own!

The Mermaids at Sea Things can make anything out of Seashells- We also make most of our Jewelry. We welcome custom orders. Please call our store Sea Things in Ventura CA for more information- or email us.

Sea Things has been making beautiful creations from Seashells for over 25 years.
We are open 7 days a week downtown Ventura
805-648-1954